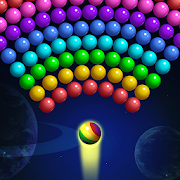 Bubble Shooter

Ne postoji opis aplikacije na srpskom!



The most cute bear of the history is coming! This is an epic game, exciting levels continuously. What is more, this bubble shooting game for free!
How to Play:
- Aim and match bubbles where you want to shoot the bubble.
- To group 3 or more bubbles to make them burst.
- Clear all the bubbles on the screen to get to a new level.
- More than seven kinds of cute bear is waiting for you to unlock,you can invite five friends to unlock the special role.
- Less moves you pass a level, higher score you'll get.
- At the end of game,you will be awarded coins according to the score. the higher score you got, the more coin will be awarded.
- At the end of game,you can click the falling bubbles to get higher score
Features:
+ easy operation but lots of fun.
+ Gorgeous special effects and beautiful images.
+ Different roles dress
+ Many interesting props to help you pass game quickly
+ A combination of multiple bubbles
+ No wifi can also play
if you like bubble shooting game,It is worth to try. Let's play it!